Prkng    2016

Role: Sound Design
Company: Prkng
Prkng is a startup based in Montreal that help people park smarter. I was asked by a founder to create sound for their marketing video.
PicPong    2015

Role: Sound Design
Company: S&T Soft
 
I was asked to create sound tracks and sound effects for the android game, pic pong. 
TEDxStockholm    2013

Role: Sound Design
Animation: Arnaud Spuhler
Team: Immigrants (Arnaud Spuhler, Valgerður Pétursdóttir, Ilya Yudanov, Amilcar G. Torija, Wonjun Song)
During agency module at Hyper Island, my team, aka immigrants, was approached by an organizer at TEDxStockholm to create video bumper for the talks. I was responsible for sound design for this video. The animation is done by a good friend of mine, Arnaud Spuhler.
International Rescue Committee/Gyro   2012

Role: Creative Direction/Video Editing
Team: Arber Beqiri, Roger Calaf, Christine Kalyani Etheart, Simon John Leon Mulk, Sanna Nilsson, Wonjun Song, Siren Zahira Wills
During our 1st week at Hyper Island, IRC and Gyro gave us an assignment to come up with a solution for increasing awareness for domestic violence. Since we had two days to work on this assignment we had to find the solution really fast. The team found an insight that people who would find compassion the most would be the housewives. We thought grocery store is where housewives spend a lot of time so the team thought about ways to increase awareness in grocery store. We decided to use brusied apple as a metaphor and have them sold at discounted price at grocery store with some messages about domestic violence attached on the apple. This helps spread the message and also help save the food waste at the same time.
Smart Car Pitch    2012

Role: Desgin, Art direction
Company: Razorfish
I provided designs and campign ideas for smart car account pitch. Razorfish won Smart Car account subsequently.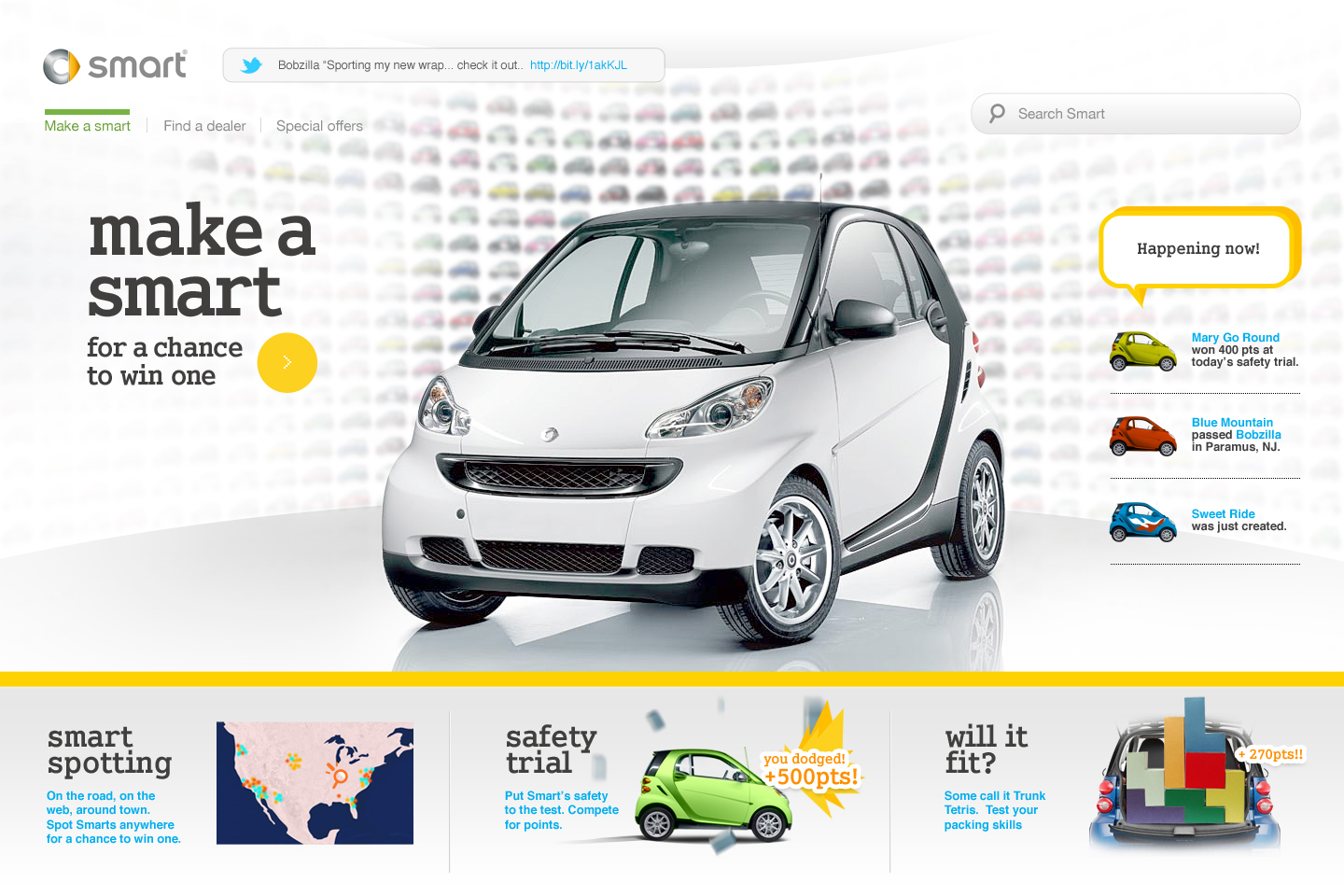 Maybelline Vending Machine Concept    2012

Agency: Creative Realities
Role: Design
 
I provided couple of design concepts for vending machine for Maybelline.
Dirty Dilemma   2011
Role: Design, Motion Direction
Dirty Dilemma was a social gaming experience to promote Axe product. If user predicts the friend's answer correctly, he would get more points to win prizes. Razorfish also partnered with College Humor and The Onion for some original contents.
Mercedes Benz S-Class Hybrid Reuter Takeover for Oscar

Role: Design and Video Editing
I was asked to design and edit the video for the Reuter digital billboard in Timesquare. The campaign ran on Oscar night and it was for the promotion for Mercedes-Benz S-Class Hybrid.
Online Advertisement    2007-2012

Role: Design, UX, Animation, Development
 
During my agency years, I've made boatload of flash banner ads. These are some of the colleciton from the past.